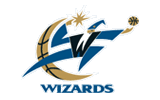 The Wizards will look forward to the upcoming All Star activities, in which none of them made. Why will they look forward to the lay off? Well simply said because it is what it is... a 5 day vacation from what this team has become. It hasn't all been bad as of late though as they were able to pull a big win from the newly deemed giant killers of the NBA, the Pacers. Last minute heroics by the former all star Caron Butler gave them a breath of the life they used to know.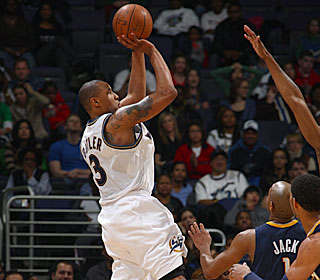 The effort the young man gave on the court was nothin short of breath taking, especially after missing the previous two games with the flu. The game came down to the last five minutes of the game. "I wasn't going to come out," Butler said. "I wasn't going to let Coach know I was tired. Every time he made eye contact with me, I tried to seem as bright as I could. Just trying to stay out there and will my way through it." He did just that as he hit the game winning shot falling down with great defense played on him by Danny Granger. Hand in his face and all, this was the one time this season they made the impact play. On a side note, Caron Butler needed to recieve a total three IV treatments throughout the game to keep himself able to run around on the floor. Great win from a Wizards team who could be described as dissapointed to say the least.
So here we are a few days away from All Star festivities in Phoenix, half way through the season and closer to the draft. It would be hard to say Wizards faithfull have not begun to think about their future. The Wizards present a very solid team when healthy. Brendon Haywood and Gilbert Arenas will prove to show a compelling one-two punch when returned to action, most likely next season. Andray Blatche who will be back this season should continue to grow and put up some impressive numbers. Then you have Caron and Antawn Jamison who could arguably be moved for something missing. Probably wont be shopped around by the trading deadline, but the off season could bring for some interesting conversation. So there ya go, half way done and still not proving much the Wizards will most likely begin to look at who should be drafted and who should be dealed.